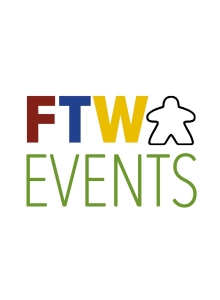 Top of the World Pre-PAX Board Game Extravaganza
Columbia Tower Club
701 5th Avenue Floor 76, Seattle, WA, 98104
Thursday, September 01, 2016 6:00 pm until 1:00 am
Organized by: Matt Winberry (Contact)
Event Description
FTW Events and Calliope Games are proud to present the Pre-PAX version of our Top of the World board gaming series! We are committed to raising money through charitable causes through tabletop gaming events. Our beneficiary for this event is once again Seattle Children's Hospital through The Imagine Guild.
Play all of your favorite games, get a fantastic meal and help raise money for Seattle Children's Hospital at this great event. A general admission ticket gets you a full meal, the best views in the entire city and all the games you can play. We'll have pop-up stores, charity auctions and maybe even a few surprise guests. VIP guests get in an hour earlier in order to join a gourmet 3 course meal, private gaming areas (if desired), and along with all of the benefits of a GA ticket, will also receive an exclusive SWAG bag.
FTW Events is now officially a 501(c)(3) charitable organization! Any and all monetary donations (for raffles, silent auctions, or just donations in general) are 100% tax deductible. Also, a portion of your admission is tax deductible. We will figure out the total amount deductible and have tax receipts available at the event.
For more information, please see our homepage at http://www.ftwevents.com.
Disclaimer: This event is not associated or connected with "Nerd Night Out".
Who Attended
Matt Winberry
Douglas Ende
Julian Shirland
CHARLES FRADY
Melissa Poole
Devin Canterberry
howsun
Jonathan Rosenberg
Tatyana Arbouzova
Steven Ngu
Roberto Sonnino
Christine Gray
Tyler Wiegers
Natalie Nolan
Jennifer Shafer
Robert Mitchell
Nicole McAllister
Andrew Carne
Justin Stevens
Jeff Davis
Darrell Anderson
Megan Hurt
Eleanor Zimmermann
Ryan Metz